Welcome To J-Tail Border Collies of Narvon, Pennsylvania! Hope you enjoy your visit. I offer ABCA and AKC registered purebred Border Collie puppies from OFA certified (Good or Excellent) and CEA Normal parents of U.S and imported champion bloodlines. I thrive for good temperament, intelligence, work ethics along with being well rounded family companions.
I do prefer local pick ups for my puppies because that gives me a chance to meet and get to know a little bit about the new owners. It also gives the new owners a chance to meet me and interact with my dogs/puppies.    I realize that this may not be suitable for everyone. I can ship to the lower 48 states.  The cost of shipping is an additional fee of $375.00 this includes a travel crate and everything the puppy will need for shipping. I am conveniently located 20 minutes south of Reading Pa,1 hr. southwest of Allentown 1 hr. west of Philly and 45 minutes East of Harrisburg 4 hrs East of Pittsburg. We are 2.5 hrs south of Williamsport.
If you are unable to pick up in person another option  to avoid airfare is I am willing to provide transportation to the following states NY NJ DE MD OH . Please contact me to discuss fees.
Feel free to email me regarding any questions you may have at: jtailbc@gmail.com or text: 484-719-3307
My Border Collies were originally carefully selected from around the U.S and bred for both family companions around working stock. Here at my farmette with the help from my Border Collies; I also produce fresh vegetables, produce, meat, free range brown eggs mostly for the family. I do occasionally take orders to those that ask, so feel free if you are local and interested. I do not use chemicals, pesticides, hormones or synthetic fertilizers!
Guarantee against collie eye and warrented until their 1st birthday against collie/hip dysplasia.
J-Tail Border Collies LLC is licensed and inspected by the PA Dept. of Agri.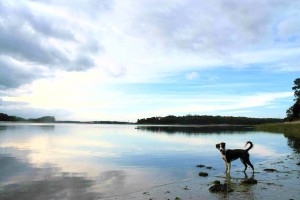 Visit my available puppy page for currently available puppies and or watch my updates by "liking us on facebook" @ J-Tail Border Collies !!!
Beautiful border collie puppy pictures from here in north east; in the heartland of Lancaster PA of past & current jtail border collies. Trained and training cute tri colored black and white , red, sable, blue merle and gold border collie puppies and dogs. Great dogs and puppies for working farms with sheep and cattle as well as agility and performance events, shows, news, photographs all here in the heartland of our Lancaster county kennel. Genetic, pedigrees, good health, reputable breeder and if I cannot help, I may be able to point you to a breeder near me with a list directory. North east family raised border collie puppies born in our house! Border collies are the most popular for many reasons, so feel free to ask any questions you may have about this wonderful working breed. Registered with ABCA & AKC for the farm or companion. We love out border collie puppies. Colors greatly vary from gold, red, lilac, chocolate, sable blue merle and of course black and whites and although some may be more uncommon in your area none are rare. We have parents tested to help assure our puppies for sale are healthy now and later. The puppies and dogs here on this page are not available, please take a look at the available puppy page and or check us out on facebook at J-Tail border collies. Thanks for taking the time to visit. contact jtailbc@gmail.com or text/lvg msg. @ 484-719-3307